For any concerns around the delivery of your order and COVID-19 lockdown, please read more here.
1. Add item(s) to your bag and go to 'Secure checkout'.
2. Select 'Delivery', and enter your address.
3. You will see two delivery options. For Royal Mail Standard delivery, select the top option 'UK Standard (Royal Mail)' (see below).
4. Continue to payment.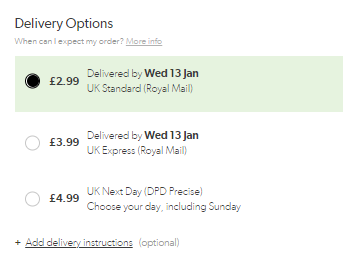 Please note:
Orders placed with Royal Mail Standard delivery are expected to arrive within 3-5 working days.
This option is FREE for orders from accounts that have a Delivery Pass or on orders with £25 or more of full price and/or promo items (excludes sale). You can purchase a Delivery Pass here.
If you have specific delivery instructions, you can add these to the order using the '+ Add delivery options' box.
Our Royal Mail standard orders are tracked.
You will receive an email from Royal Mail once they have your order information with details of your tracking as well as updates about your order's whereabouts. You will also receive a text 2 days before delivery to advise on your exact delivery date and will be provided with a 4 hour delivery window.
On the day of delivery, you will receive a further text with a 2 hour delivery window.