1. Add item(s) to your bag and go to 'Secure checkout'
2. Select 'Delivery', and enter your address.
3. You will see two delivery options (see example below). For DPD Next Day, select the 2nd option 'UK Next Day (DPD Precise)'.
4. Select your delivery date. If you don't select a date for delivery, this will automatically be set for delivery on the first available date.
5. Continue to payment.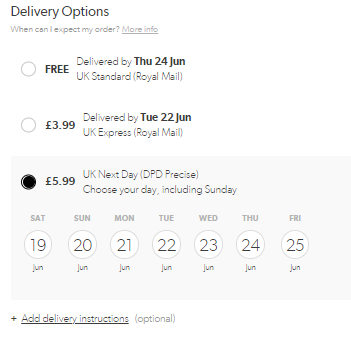 Please note:
Orders placed after the 8pm cut-off time, will not be delivered on the next day, but the day after. This will be clear from the first delivery date showing at checkout.
This option is FREE for orders from accounts that have a Delivery Pass. You can purchase a Delivery Pass here.
Some UK locations are unavailable for our Next Day delivery due to their remoteness. I.e postcodes starting with IV, HS, and ZE, and some AB, KA, KW, PA, and PH postcodes will not show the Next Day option at checkout.
If you have specific delivery instructions, you can add these to the order using the '+ Add delivery options' box.
You will receive an email from DPD once they have your order information, you will be able to select your one-hour delivery slot (between 8am and 8pm, dependent on availability) and access full tracking and delivery options; including safe-place delivery, deliver to neighbour and delivery to a DPD pick-up point. These options can be accessed via the tracking link in the email, or the DPD App.