Yes! Most products on our website now have a 'FIND IN STORE' button (UK stores only), so if an item is out of stock in your size, or you'd like to see and try something, before you buy, you can check stores near you for stock of that must-have item!
Please note: The store stock checker is not always 100% accurate, as stock levels can change when items are sold during the day, so we would always recommend contacting the store (find your local store's number here), or our Customer Care Team, prior to making any unnecessary journey.
Stores are happy to hold items for 24 hours.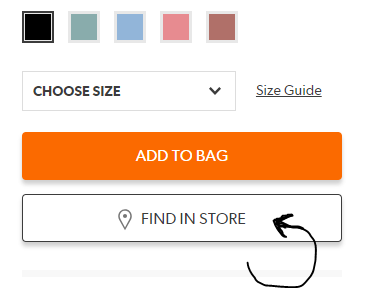 TIP: If an item you want is no longer in stock online in the colour you want, but other colours are still available, then the 'FIND IN STORE' button won't appear on the out of stock item, but by selecting one of the available colours, followed by the 'FIND IN STORE' button on that page, the search pop-up will allow you to select any of the originally available colours, along with your size for you to search any store for the exact item you want! (If they're all out of stock, you can contact us via the options at the bottom of this screen).