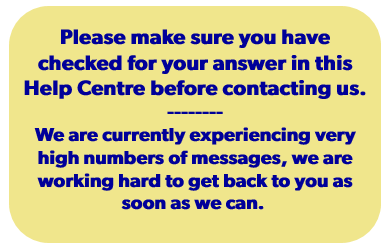 Can you find your answer here?
There's loads of answers here in this Help Centre, so pop your question in the search bar first.
-------
If you need help with a query, on an order or a purchase, and you can't find your answer here in our Help Centre, you can contact one of our friendly Customer Care Teams via our various contact channels.
For urgent queries, you can contact us via Chat. We're available there from 8am-8pm every day.

Please note: If the chat icon does't appear, then unfortunately no chat team mates are currently available, so please keep checking back.
For less urgent queries, please see all our alternative contact options at the bottom of this page.
Simply, select the 'Chat' option at the bottom of this page, and a pop-up like this
will appear at the bottom right of your screen. Click on that icon to load the chat window.
To begin with, our very clever 'Bot' will try to help you, if you can't get your answer there and need to speak to one of our team, just click 'Live chat' as seen here: