If you purchase a Branded item online with us, these cannot be returned to a New Look Store. You can return to us for free (find out how to do this below).
All 'Brands We Love' ranges are listed here.
Products included in this policy, will show the message below (highlighted) on their product page prior to purchase: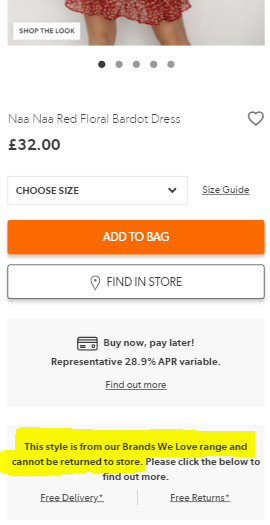 They will also include the Brand's name at the beginning of the item name e.g. 'Naa Naa Red Floral Bardot Dress' and the Brand's logo in the corner of the image of the item.
------------------------------------------------
All our UK returns are FREE - return Branded items to us using one of these methods:
Please note: The above does not apply to Label Lounge items purchased in store, or orders placed in store (starting HS).