You can find our Christmas returns policy here.
Returning an unwanted item?
We hope you love what you've ordered, but if you're not 100% satisfied with any item, we've made our returns FREE and simple:
You can return any item within 28 days, including sale items or items purchased with promotional discounts. (Your 28 days start from the date on your receipt, or from the date when you received/collected any items you bought online).

Items must be unworn and in their original condition.

Items must be returned with a valid dispatch note (online purchases) or a valid receipt/proof of purchase (in-store purchases).

All refunds will be issued to the original method of payment and in the original tender currency (unless otherwise stated).
Please note: We are unable to accept any items that have been returned outside of the time period above, or that are worn or in an unsellable condition. Any items returned outside of this timeframe will be returned to you. For a full list of refund exceptions, click here.
-----------------------------------------------
Our returns for online orders are FREE and simple. Your dispatch note will not have a returns label, but don't worry if you don't have a printer, all our returns providers offer NO PRINT returns.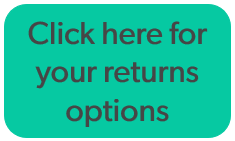 Returning a parcel to our warehouse? Please allow up to 15 working days for your refund, from the date you send your parcel back to us. There is no need to contact us. You'll receive an email when it has been processed. Please hold on to your proof of returns until you have received your refund.
1. Free returns in all UK STORES (whether purchased online or in-store), with the exception of Third Party Brand items. See 1a below.
1a. Returns of Third Party Brand items purchased online (see list here), can ONLY be returned and refunded via the warehouse. (See the 'How to Return' page here.)
2. Free returns in the UK, for online purchases, via InPost, Collect+ and Royal Mail (Please remember to get a proof of postage receipt and keep this until your refund has been successfully processed). See more info on our return options here.
3. Sale items purchased in store you can return them within 28 days of purchase, with a valid receipt, for an exchange only.
For purchases paid for by PayPal, please see here.
For purchases paid for in part, or in full with a New Look Gift Card, please see here.
*Please note if you place and pay for an online order in store (order numbers start HS) the only way to get your refund is to return your items back to store.*
For a list of refund exceptions, see here.

Please note: The above returns policy refers to change of mind only and does not affect the statutory rights you have as a consumer e.g. the right to cancel, or the right to return items, which are faulty or not as described or a general right to return most online purchases under the Consumer Contracts (Information, Cancellation and Additional Charges) Regulations 2013.
For more information on your right to cancel, read here.
If you feel that your items are faulty please read more here.